Transcript services online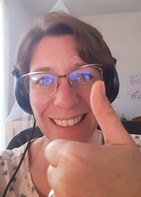 Here you find more information about my transcript services online of which making content analyses is also an important part. I have been doing this for 5 years now, and am very experienced in transcribing or summarising Dutch interviews into English. If you are in need of someone who can transcribe your audio or summarise it in a schematic content analysis, this is the place to be. You provide me with the audio files and I will put it on paper, exactly as you need it. I offer these transcript services online in English and in Dutch, but am also very experienced in translating from one language into the other, before it is all put on paper. All this can be done in several ways and formats.
Current projects: I am working on several projects for QQFS/M3 and Peak Translations have used my transcript services online recently as well.



Several types of transcript services online
I can transcribe several types of audio for you, such as dictates, interviews, hearings, telephone conversations, webinars and readings. All I need is a good recording, possibly including video, and it can be transformed into a text. My transcript services online are custom made, so you decide what you need and which guidelines you want me to apply. I can leave out personal information, for example, or I can timestamp every sentence, every 5 minutes or every 10 minutes. The goal of all the transcript services I offer online is to textually record what is being said. You decide how literally and precise that needs to be done for your particular purposes and if you need it to be tran. I can make several types of transcripts, such as a global transcript, a verbatim transcript or a literal transcript.
A global transcript: if you ask me to make a global transcript for you, I will only listen to the audio once. I will transcribe as I am listening and that means that indiscernible words and passages will be omitted. The document will not be corrected afterwards. Out of all the transcript services online I offer, this one has the lowest price. You will get a good idea of what was said, but it is not as precise.
A verbatim transcript: if you ask for a verbatim transcript, I will record the entire conversation. I will try to do that exactly, by regularly rewinding and being as comprehensive as possible. Irrelevant information, non-verbal sounds, stammer and incorrect language will be omitted. You receive a fluent text which contains the specific word usage of the speakers.
A literal transcript: when I make a literal transcript, I record exactly what is on the tape. Incorrect language is not corrected and things such as problems with the connection, repetition and fillers can be recorded as well. You choose this transcription service if you are in need of a literal representation of what happened and what was said.
Making content analyses
Making content analyses is also one of the transcript services online you can hire me for. This is done differently from making a transcript. The source for a transcript is always spoken, whereas a content analysis can be made from various sources. Its goal is to give you a schematic summary of, for example, books, newspapers, interviews, online content of movies so that patterns, agreements and similarities can easily be spotted. There are two types of content analyses I most regularly make.
A qualitative content analysis: this analysis is done by going through non-numeric information with the goal to understand experiences, opinions and concepts.
A quantitative content analysis: if you ask for a quantitative content analysis, I will collect and analyse numeric data in order to find patterns, prove connections, to present results and to make predictions.
My transcript services online
If you are interested in one of the transcript services I offer online, please contact me and we can discuss it further. On my rates page, you can see how much I charge for those services. I have almost 5 years of experience as a transcriber and I am sure that I can help you textually record your audio or analyse your data. I offer these services in English and in Dutch and can translate what is being said into the language you understand. So, feel free to contact me and we can speak about how I can help you with the transcript services I offer online. If you contact me during business hours, I will reply as soon as I can.