Dutch English translation
Welcome to my translation services webpage and if you need a Dutch English translation, I am the online translator for you. I am also an experienced transcriptionist and can provide you with several types of content analyses for your conversations and interviews. I am a Dutch national, but with more than 15 years of experience in translation work and almost 20 years living abroad, I have also reached native fluency in English. On top of that, I have a degree in English Language from the University of Glasgow and I am a writer myself. If you need a Dutch English translation, or any other services in those languages, I am the one to call.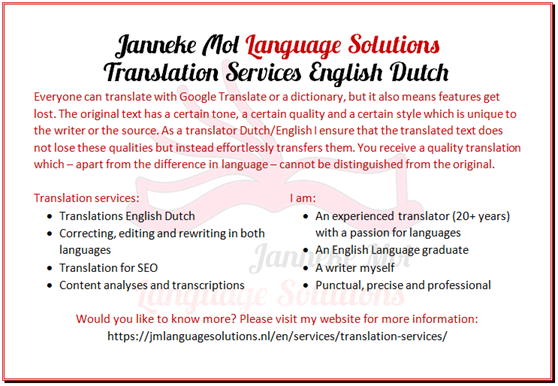 Current and previous Dutch English translation projects:
Translation from English to Dutch for the Daily Art App.
Partner of QQFS/M3 Global Research for transcripts and content analyses of Dutch audio, translated to English.
Transcriptionist for a large project with Peak Translations.
Dutch English translation in handy bundles
I offer all my Dutch English translation services in the shape of handy bundles. That way you know exactly what to expect even before we start working together. There are several bundles to choose from:
Basic Dutch English translation: I translate both Dutch to English and English to Dutch with equal confidence.
Correcting, editing or rewriting: I can turn an English article in need of improvement into an error-free and fresh new text for you.
Translating for SEO: I will make a Dutch English translation for all your webpages and apply the SEO content rules for better rankings.
Transcripts: I will provide you with an English schematic content analysis or a full transcript of an interview in Dutch.
Custom-made options: I can also put together a custom-made bundle for you which includes all the Dutch English translation services you need.
Basic translation services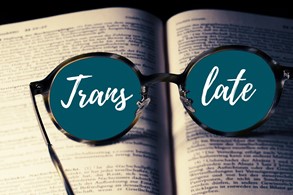 As I am fluent in both languages, I can provide a Dutch to English or an English to Dutch translation for you. I am very experienced in both (almost 15 years) and have had exceptional training at the Universities of Groningen and Glasgow. It is my goal to turn every text into a perfect translation that carries the tone, the style and the character of the original over flawlessly. In the end you would not be able to point out which one is the translation and which one is the exemplar. Because of my experience I will provide you with a quality Dutch English translation fast and without long delays.
It also happens that the original text needs to be improved as well as translated. In that case I am also the online translator to choose. As a writer, I am able to create quality texts, even if the original is not. You will not only receive a flawless translation; the quality new article will exceed the one you had before. This is sometimes called transcreation, which requires not only language skills, but also a talent for writing. As it happens, I have both.
Correcting, editing and rewriting
If you have an English text, then I can improve it for you as well. This does not involve Dutch English translation, but purely my English writing abilities and knowledge of the language. I will take your boring, disorganised text or document full of mistakes and turn it into a structured, error-free, clear and fresh new article. You can hire me for correcting, editing and rewriting, depending on the state of the original text and your personal wishes. In case you want your page to do well in the SERPs, I also write SEO content. I can also make sure your new text performs well in the search engines from the start.
Translating for SEO
As I am also an SEO copywriter, I can provide you a Dutch English translation which is SEO-ready. That way you can be sure that your new translated pages start ranking as soon as possible after publication. Keyword research is part of this service, as well as inserting those keywords in the correct places in your text and writing the meta titles and meta descriptions. I will work on your Dutch translation whilst perfecting your SEO content for those new pages at the same time. You will hit two birds with one stone.
Content analysis or transcript
A last service I offer as standard is a Dutch English translation of a recorded conversation, called a transcript. Usually those are interviews in Dutch that need to be written out fully into English, but I can also provide you with a Dutch transcript of English audio files. I have a lot of experience doing this and work together with QQFS/M3 Global Research regularly. I also provide content analyses, if you would rather have a schematic summary of what was said. In this case I would not translate the conversation literally, but I would schematically collect data from your audio with the goal to point out patterns, similarities and differences in the information given. For more information about these transcription services and the accompanying rates, you can visit the relevant pages here on my website.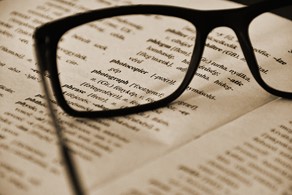 Other work
There are many services that involve Dutch English translation. That is why it is possible that the services described here do not offer what you need. As I am fluent in both languages, you can come to me with any type of work related to Dutch English translation. I am a writer, I have a feeling for languages, I am a Dutch native and I have a Research Master's degree in English Language from the University of Glasgow. That is why I suggest that you contact me, even if your request is not listed here, to start the conversation about what Dutch English translation work I can do for you. As long at is involves those two languages and the source is not too specialist or scientific, there is not a lot that I cannot translate from Dutch to English and English to Dutch.
Fast delivery
I have ample Dutch English translation experience and am usually able to deliver your work relatively fast and without long delays. If your request involves a large text, or a specialised text with jargon or complicated use of language, then it will naturally take me longer to translate. I can usually judge this quite well, so I will always offer you a realistic deadline. Translation for SEO also takes longer than standard translation work. Do you need your Dutch English translation, your transcript or your content analysis faster or during the weekend, then I can do that for an urgency fee.
Fluent and correct
You can hire me for different translation assignments, as long as it is for the languages English and Dutch. I understand that you do not want to lose the quality and idiosyncrasy of a text by having it translated and that for me is key. I have lived amongst the Brits for years, worked with them, laughed with them and dealt with them. I see myself as bilingual and of the two languages English is my favourite. Do you need a Dutch English translation, a transcript, a content analysis or something else related to these two languages, then I am more than happy to be the online translator for you.