SEO copywriting service
SEO content is an important part of Search Engine Optimisation and with my SEO copywriting service I will help you increase your rankings. Once your content is optimised, you can start thinking about link building, perfecting your technical SEO and opening a Google Ads campaign. The texts on your website's pages need to be perfectly optimised so the search engines will pick you when a certain keyword is typed in. I am the freelance copywriter for you and by using my SEO copywriting service you will also improve your rankings. I will make sure that one large part of your SEO activities is in perfect order.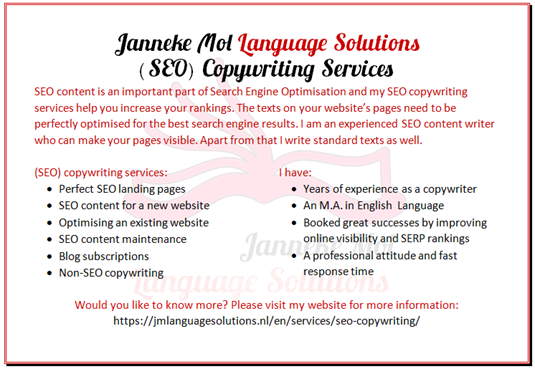 To have a go at SEO content yourself and improve your online visibility, consult my article A complete DIY roadmap to improve your online visibility for a step by step guide through the process. It also gives you a great idea of everything I can do for your pages if you decide to use my professional writing services.
What does my SEO copywriting service consist of?
I am not an online marketer; I am an SEO copywriter and that means that SEO content is my thing. In my job I am able to perform a variety of SEO activities:
Website analysis

: what is the goal of your website? What would you like to improve by using my SEO copywriting service? What are your unique selling points?

Analysis of the competition

: which keywords are already in use by your competitors? What do their websites look like? How can your content be improved to move ahead of them?

Keyword analysis

: an important part of my SEO copywriting service is the keyword analysis. I will find relevant keywords that are typed in frequently by internet users, but have little competition from other websites.

Process the keywords

: I will look at your current texts and place the keywords in the correct places. Or I can write band new texts for you, fully search engine optimised. Your texts will remain fluent and clear, they will be structured and user-friendly, but are also noticed by the search engines at the same time.

Write meta titles- and descriptions

: as part of my SEO copywriting service, I will also write the individual SEO-friendly meta titles- and descriptions for your pages.
Handy bundles and clear expectations
If you go to my SEO copywriting rates page, then you see that my SEO copywriting services are presented in the shape of handy bundles. That way you always know exactly what to expect in terms of pricing and what you will get back for it. There is a bundle for optimising or writing a perfect landing page, for writing the first 5 pages of your new website, for optimising an existing website and for a blog subscription. Every bundle consists of set SEO copywriting services and you always get an introductory meeting and an action plan with your quote. When you decide to use my content writing services, you will know exactly what to expect, even before any contract has been signed.
As part of each SEO copywriting service you get:
An introductory meeting without obligation.

A custom-made action plan.

A quote for you to approve.
You do not agree to or pay anything until you officially accept the plan and quote. From that moment I will start working on your project as your freelance copywriter.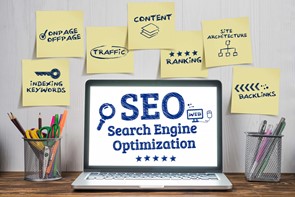 SEO maintenance
Another possible SEO copywriting service I offer is maintenance. Once all your SEO content is in order, there is no time to sit back and watch the numbers improve. SEO is something that you have to keep working on in order to get good results. That means that you have to monitor, analyse, adjust and add continuously. I can do this for you as well, after I have optimised your pages. I will spend an x amount of hours on your website per week to monitor the progress, make changes where necessary and add content in case you want me to.
Copywriting services as you want it
Are you looking for a freelance copywriter offering a service that is not covered in one of my bundles, that does not mean that I cannot help you. I also offer a custom-made bundle and as long as you need professional writing services that involve content, you can come to me. Apart from SEO copywriting I also work a lot on standard copywriting. I can write, correct, edit or rewrite texts for you for different sources, such as flyers, brochures, hand-outs, news articles or webpages. I actually love to forget about the SEO content rules sometimes and to just be able to write freely. That is why you can contact me for any type of copywriting services you need.
If you are interested in my writing style and capabilities, have a look at my work portfolio or my blog.
The experience of the visitor is key
Everyone offering content writing services, is aware of the latest developments in the area of SEO content. Search engines focus more and more on the experience of the visitor, rather than on the exact rules. As is the case for every company, they also want to deliver the best possible service to their users.  It is not as much about the amount of exact keywords that are placed where in the text, but more about the quality of the text itself and the use of natural keywords and keyword variations. It is about the relevance of your pages to the keyword that has been typed in and the ability of your content to provide quick and complete answers. My SEO copywriting service is current and effective and will do just that.
Search engines analyse the quality of the content of your pages, they look at the structure of the texts and the website itself and they examine the internal- and external links. They want to provide their users with search results that help them get to the answers they need with as little obstructions as possible. I can optimise all that for you with the SEO copywriting service that I offer. Your visitors will see high quality content, the search engines see a website worthy of a high rank. By hiring me for you will kill two birds with one stone.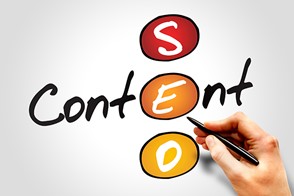 SEO and other types of content
I am a freelance SEO copywriter with a lot of experience, but that is not the only content writing service I offer. Every week I write a variety of different texts, like blog articles and opinion-, informative – and promotional texts. I can send you a few samples of my work, with which you can judge yourself if you want to continue with my SEO copywriting services or standard writing services. Let me know what you need through one of the contact options offered and we can discuss how I can help improve the content of your pages.