A complete DIY roadmap to improve your online visibility
31-08-2020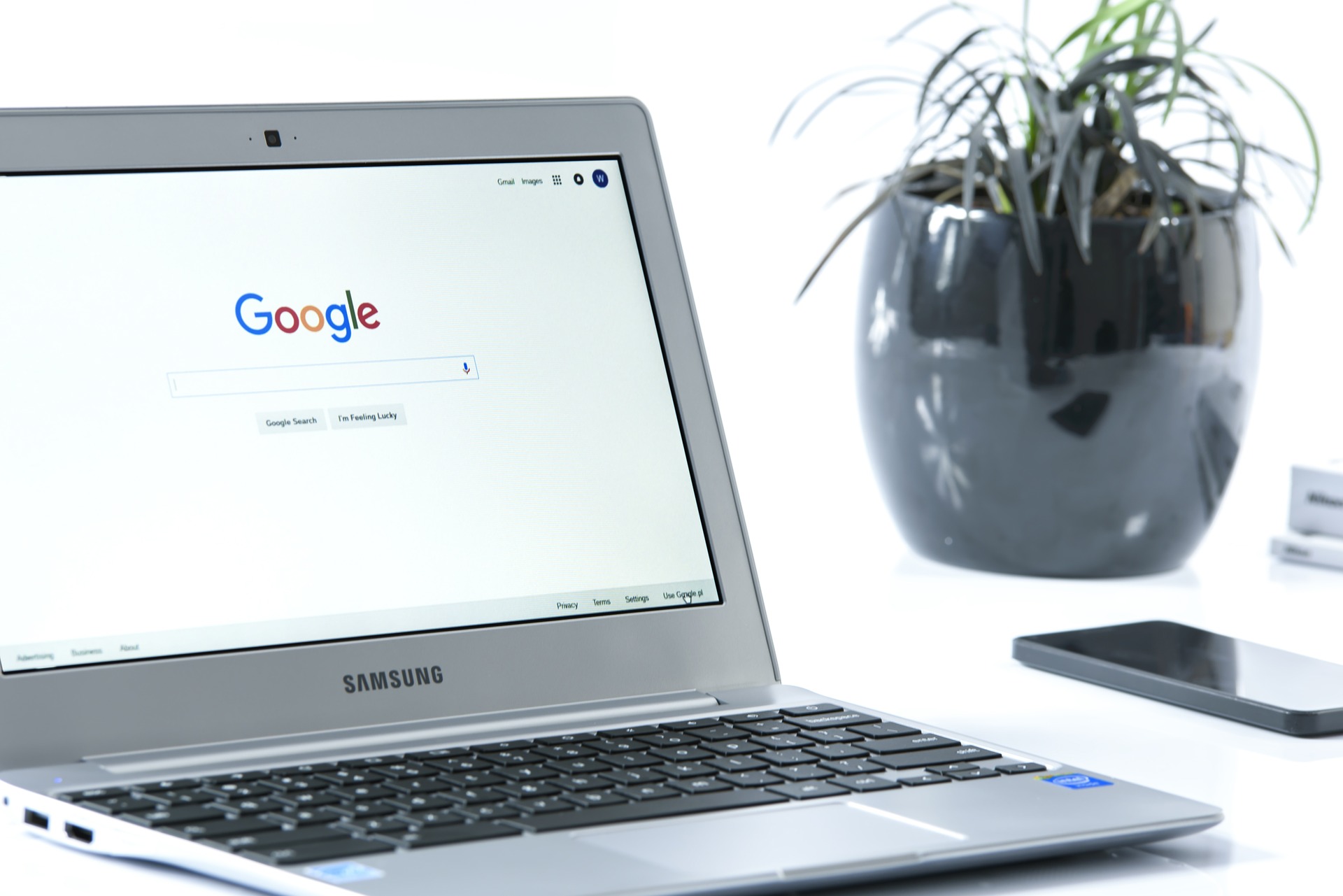 You have a perfect website, but no-one can see it. Online visibility is essential for attracting visitors to your pages. Reach the positions you deserve by following this step-by-step guide to SEO content.
Every day I write SEO texts which are designed and cleverly put together with one major goal: to improve online visibility. If you are visible online it means that your pages are ranked by the search engines. Without online visibility it is as if your website does not exist. The aim is not just to get into the rankings, but to get in the top 5. Writing SEO-friendly texts is part of a discipline called SEO Content. This is an umbrella term for every part of your page's content that can be changed and optimised to encourage the search engines to rank it higher.
Improving your online visibility
Maybe you are the owner of a beautiful website. It is perfect, attractive, structured and ready to receive customers. But those customers fail to come. Very often, the cause is not the quality of the website, but lack of online visibility. Working on SEO Content can then be a solution. By doing that your website will trigger the search engines and they will start suggesting it to their customers. It is important that you keep working on improving your online visibility and to reach a spot within the top 5. Any lower than that and you are missing opportunities. The next list of statements makes this very clear:
Only 1 in 10 internet users searches beyond the first page of results.
Only 1 in 4 internet users select results outside the top 5.
If your page reaches the first position, then 40 per cent of the users will visit it.
From this you learn that even a position on the second page of the results will not get you a lot of traffic. Your online visibility really gets a boost as soon as you reach the first page. If you do not spend time on SEO Content, the chances that your pages are seen are slim. By adjusting your content to stimulate the algorithms the search engines apply to make their ranking, you will reach a competitive position. It is my job, as an SEO copy writer, to get you there and improve your online visibility.
Ranking before traffic
Owners of new websites are often desperate and do not know how to attract visitors to pages that are not visible. And pages that attract no traffic are automatically downgraded by the search engines. They want to present their customers with results that are both reliable and authoritative and a page with no visitors is neither. From the moment that your pages start attracting internet users, your position in the Search Engine Result Pages (SERPs) will also improve. As that happens your online visibility progresses. The biggest problem is that you are dealing with a situation that is exactly the other way around. You cannot attract more visitors without better rankings. SEO Content helps you to get the needed positions first and generate the traffic that comes with it.
A roadmap to better online visibility
SEO Content is something that you can work on yourself, or you can outsource it to specialised copywriters like me. Attempting it yourself will save you money, but you will also lose a lot of time. In the end it is definitely worthwhile to invest in it, because your online visibility will improve, the traffic to your website will increase, your authority will go up and your website will start performing better in the SERPs. I have composed an extensive roadmap below, to give you the opportunity to start working on SEO Content and online visibility yourself.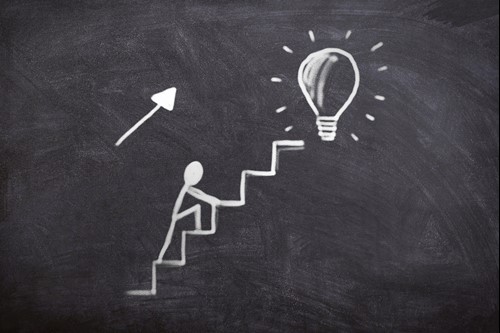 Step 1: structuring your pages
User-experience is one of the major indicators for search engines and essential for online visibility. They want to present their customers with information that is accessible and easily found. The first step is to make a map of your website and to restructure your pages. The best way to do this is by taking a pen and paper (or a Word- or Excel document) and record the current structure. Which pages are currently there, what are their subjects, how are they linked and what sub-pages do they have? After this you start to make changes by moving pages, deleting pages and/or adding pages. You want to end up with a well-organised and clear outline; a plan for how you want the structure of your website-to-be.
Tip: look at your plan and decide if there are any pages that you do not want the search engines to index. Your contact page, for example, often consists of a form and only a few lines of text. There is not much material available to optimise it with. Other examples are your terms and conditions or pages that contain duplicate content. Make a note of those pages on your plan and tell the crawlers of the search engines not to visit them. You can do this with your Content Management System (CMS). After that your overall SEO score and your online visibility will not be influenced by pages that you cannot or do not want to optimise.
Step 2: keyword research
You know exactly which pages your website will contain and which subjects they will be dealing with, so it is time to assign each page a keyword. Choose a different keyword for every page. If you do not, the search engines do not know which one to prioritise when it is typed in. You will avoid a situation in which both pages are discarded because of confusion. Keyword research might be the most important step for improving your online visibility and therefore it is worthwhile to invest a lot of time in it.
Keyword research step by step
I have made a separate guide, just for researching keywords. It is best to go about this step by step.
Try to find a good keyword tool to perform your keyword research with. There are a lot of them, both paid and free. If you do not want to pay for your SEO software yet, then WordStream, Keyword Generator en Ubersuggest are good places to start. For working on your online visibility you will need a good programme which gives you data to back up your research.
Now, you take the first page you want to optimise and you perform a brainstorm. Write down as many suitable keywords you can think of for that page. Try answering the following questions:

Which keywords describe this page the best?
What does Google autocomplete suggest when typing in this keyword?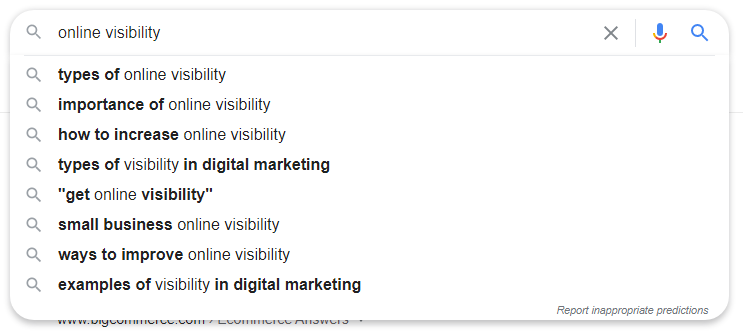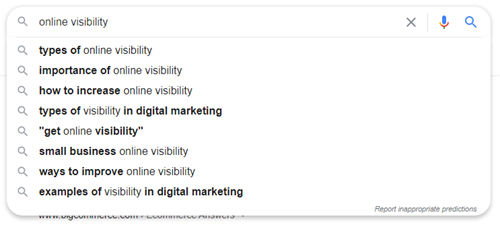 3. What does Google suggest in the list of related keywords at the bottom of the SERPs?
It is time to assign a keyword to your page. You can choose to use several keywords, but make sure you point out one main one. Open your keyword tool and type in your keyword. Do not forget to select the correct country as well. You should now see data about this keyword, about the amount of usage every month and the level of competition on it. You will also get suggestions with similar keywords that might be better choices. Keywords which will improve your online visibility fulfil all of the following three important criteria:

Specific: the more specific a keyword is the better. With them you will reach users who are actually looking for the information you are giving them on your page. That will result in more traffic and a higher conversion rate.
It is used: you will come across very specific keywords, but if they are never used they will not benefit you. For online visibility you will need specific keywords that are also popular.
Low competition: the last criterion for a good keyword is to do with competition. Your keyword tool will assist you with this. Most of them assign the keywords a Keyword Difficulty score. A lower number suggests that it is not yet targeted by many other websites and the amount of competition is small. This is where your chances lie.

Repeat this for every page. Most free programmes do have limitations, for example with regards to how many searches you can perform. In that case you can continue to the next steps and work on the pages to which you have been able to assign a good keyword. Once you are finished with them and your tool is available again, you continue working on the next batch.
Step 3: writing texts
You should now have assigned a keyword to your page. The most important steps for improving your online visibility are now behind you and it is just a question of applying SEO Content rules. You do that by (re)writing your texts and adding your main keyword in the correct places. The texts need to be interesting and well written, so it is not just a question of placing keywords where they should be. They need to have only one H1 heading and several H2 and H3 headings. Every paragraph has its own heading and they are short and clear. It is important that your texts are fluent and organised; keeping in mind that your visitors will scan them for the information they are looking for.
Apart from being clear and structured, your texts should also feature your main keyword in the following ways:
Add the main keyword to your H1 heading.
Add your main keyword to the first sentence of the text.
Add your main keyword to the first H2 heading.
Stick to a keyword density of 1% to 2%. If your text contains 1000 words, then the keyword should be featured 10 to 20 times.
Also add some other keywords and variations to the main keyword. They can be added anywhere in the text, wherever they feel natural.
Step 4: adding links
If you are happy with what you have written and with the use of your keywords, you will add a few links. These improve your online visibility because your text will become more user-friendly. Search engines love that. Add one or two internal links, so links to your own pages. A link to one of your blogs, a link to your home- or contact page; whatever suits the text. Internal links improve the structure of your page and provide the reader with more useful information. You encourage them to navigate your pages, thus lowering your bounce rate and improving your dwell rate.
Next you will also add a few external links. These are links to other websites and although they lead the reader away from your pages, they have the goal to help your visitor find the information they are looking for. Search engines like pages that put their customers first and they also see external links as proof that your information is backed-up. Make sure you only link to reliable websites with authority because weak links do not improve your online visibility much. They could actually have the adverse effect. An example of a bad external link is a link to a page that has no security certificate.
Step 5: adding pictures and videos
Visual aids offer your visitor a way to find information without having to scan large portions of text to find it. Internet users are automatically drawn to pictures and videos, much more than to written words. Visual material is easier to view and it sticks to mind. Your online visibility will improve if you add a few pictures and a video to your page. The search engines will reward you for it, because they will rate your page as user-friendly. You help your readers by making your page attractive and interesting.
Tip: do not forget to fill in the alt-text and the description of your pictures and videos in your CMS. That will also increase your online visibility. The alt-text tells the search engines what is depicted. As they cannot 'read' images, it helps them understand what is going on on your page. The description is shown when the user hovers over the picture with the cursor. It will not improve your online visibility much, but it is a nice touch.
Step 6: write your met title and -description
Your online visibility will improve if you write a good meta title and –description. You can do that yourself, in your CMS. If you do not spend time on this, the system will automatically generate them. The meta title and –description of your page are displayed in the SERPs. The meta title is the link to your page and the meta description tells them shortly what it is about. Your keyword should be featured in both. If you write an attractive and capturing meta title, you will attract more visitors to your page which increases your online visibility. A good meta description does the same. Make sure you make a correct and honest description and do not try to attract visitors with information that does not reflect what is on your page. When they find out your page does not describe what they are looking for, they will leave.

Step 7: one last check and it's time to publish
Your page should be finished now and it is ready to be published through your CMS. It is always good to repeat step 3 to 6 to make sure that you have not forgotten anything. Now you can publish your page and repeat everything for the next one. For good online visibility, every page needs to be perfect.
Step 8: analysing and monitoring
Once you have published a page, you will monitor the progress. For this you also have access to a lot of programmes, many of them are free. SE Ranking, SERPmojo and Google Search Console are good examples of those. Your online visibility is measured by the position of your pages in the SERPs and these programmes provide you with this information. You will receive a daily or weekly update of your keyword rankings. Higher positions mean better online visibility. The goal is a spot within the top 5.
Step 9: be patient, maintain and do not give up
To reach this position and improve your online visibility you will need to be patient. It takes 2 to 3 months on average for your page to appear in the SERPs and then the position it has will not be fantastic. Whilst you wait you keep maintaining your pages and adding content. It helps to regularly write an article and share it through your social media channels. A website which is frequently updated is viewed as current and up-to-date by the search engines. This has a positive effect on your online visibility. Every time you write a new article, you can also add a new keyword to your list.
Tip: add a glossary of terms to your site in which you give short and clear definitions of terminology in your branch. This might get you into Google's featured snippets, which is often seen as position 0 in the SERPs. Naturally, your online visibility will get a major boost.
I can improve your online visibility
As this roadmap clearly shows, SEO Content and improving online visibility is a time-consuming process. And although you will benefit greatly from it, you do not always have this time. That is why outsourcing it to an SEO copywriter like me can really benefit you. I will perform all the above steps for your page or pages and will take you out of your online invisibility step by step. It is time to start competing for first place.
Janneke Mol Language Solutions is a company specialised in English lessons online and SEO copy writing. I also offer translation services (Dutch-English and English-Dutch) and Dutch language classes. If you are interested in what I have to offer, you can find all the necessary information on my website. Feel free to contact me through one of the options available.